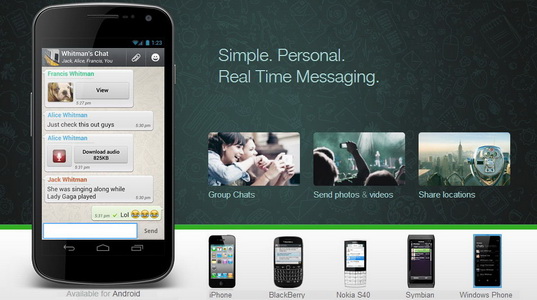 What is WhatsApp ?
WhatsApp Messenger is a cross-platform mobile messaging app which allows you to exchange messages without having to pay for SMS. WhatsApp Messenger is available for iPhone, BlackBerry, Android, Windows Phone and Nokia and yes, those phones can all message each other! Because WhatsApp Messenger uses the same internet data plan that you use for email and web browsing, there is no cost to message and stay in touch with your friends.
In addition to basic messaging WhatsApp users can create groups, send each other unlimited images, video and audio media messages.
Advantages of WhatsApp:
Supports cross platforms (iOS, Android, Blackberry, Nokia)
Fast in delivering messages
it shows the other party's last login time
Location, Sound clips & voice messages can be shared.
Favorites section display only people who have whatsapp installed from your phone Book.
Chat history can be sent via email.
Contacts can be Blocked.
Group feature offers to chat with 10 contacts simultaneously.
Attach images, videos, audio clips to contacts.
Avoid texting charges. Use phone data packages to send unlimited messages.
See when your friends have read your message.
What we offer with WhatsApp:
We can send your Ad campaign via whatsapp to unlimited contacts in a very short time.
In the campaign you can send rich & Multimedia content like pictures, brochures, videos to all.
We provide reply options and support person is available to directly interact with potential users.
We will sent your brand picture as your company logo.
Unsubscribe link is provided to avoid spamming.
Competitive Edge of Dataslices:
Much faster delivery than usual messages sent via telephone operators.
Wide range of attractive whatsapp features are used in order to make a promotional campaign more interesting & persuasive.
Our Campaigns become  more interactive on user friendly interface.
Group of contacts – We create different profiles to send each type of messages.
Numbers are verified on regular basis & categorized.
Book your campaign through phone, email or via our online inquiry form.