Dataslices provides flexible SMS solution to the clients ranging from big corporate & multinational companies, advertising & media agencies, small retail vendors, to individuals and students.

Dataslices is market leader in providing premium, most updated database for SMS marketing.
Dataslices has done hundreds of successful targeted SMS campaigns on our premium databases. Start your campaign now
Our bulk SMS analysts are experts; they know the importance of targeting your message to the right audiences. Our targeted SMS marketing includes:
Bulk SMS broadcast on Client's Database
To Broadcast SMS campaigns on client's database, we use the most compatible platform for any format of data. We broadcast your message at your given time. Our automated system filters your database and sends only to the correct number & you pay only for the delivered messages. We do provide real time reporting to the client.
Targeted SMS marketing on Dataslices Database
Dataslices helps you to generate new business leads by sending your message on our profiled, most accurate Middle East business & individuals data. Provide us your required audience group details & leave the rest on us to find best contacts for you. We will determine which people are most likely to respond to your offer. Required target audience can be selected for all GCC countries.
Dataslices offers B2B & B2C targeting with premium & non-premium as below:
Business to Business (B2B)
Big Businesses
Businesses Professionals
Executive by Ethnic surname
Female business owners & Professionals
Small Business owners
Business to Consumers (B2C)
Age
Gender
Home Owners
Income Level
Ethnicity
Religion
Country
City
Area
Marital status
Premium Databases:
Select from our most refined & current Databases to reach most accurate & potential audiences. Selecting from premium databases you will be able to select group of audiences based on:
Country
City
Area
Gender
Age
Ethnicity
Marital status
Income Level
Home owners
Executives
Interests
Religion
Expatriates
Non-Premium Databases:
Select from our generalize databases you can reach spread your message to specific country, city or to general public. selecting non-premium will allow you to select people based on:
Country
City
Gender
Religion
Income Level
Expatriates
Our process of Building databases
Collecting Database from reliable sources such as
International Data Suppliers such as Kompass, Salesgenie, infousa etc
National Data Suppliers
Credit data Suppliers
Sector specialists
Cleaning, De-Duplicating & Integrating
Our experts perform this vital step for building data with correct values. This process
involves validating cities, address, postal codes, phone and fax numbers
De-duplication process is done using of state of the art software based on email addresses
Profiling
The purpose of profiling is to deliver right message to right people.
The process before using the data that to determine where it can be used.
Improving the ability for the data to search the data by keywords, description or assigning it to a specific category.
Generate metrics on data quality & quantity where it perform particular standards & patterns.
To know more about our updated B2C & B2B (premium & non-premium) databases count, please visit our dedicated SMS database website www.smsdatabank.com
Build your own Campaign Module (Live Database Server)
Dataslices offers you unique state of art Database server with live threads. You can select and execute end number of campaigns with wide range of filters.See below some of the major steps from our server which shows how you can build your campaign & send messages automatically.
Select your Region & login to build your own campaign: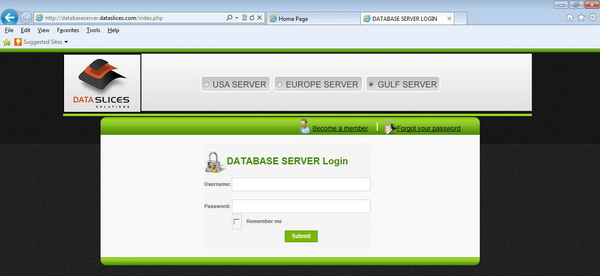 How will you be using your leads: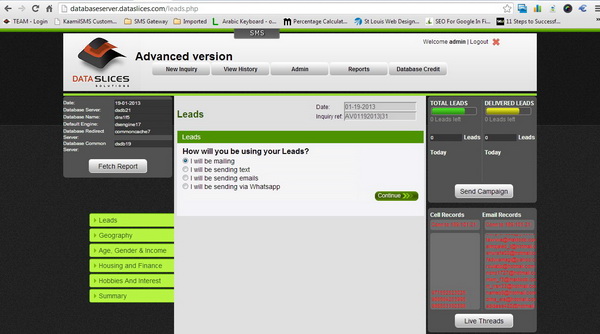 Selecting country and region: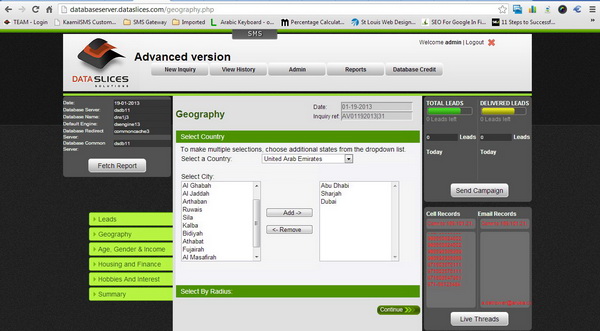 Selecting Age group & Marital status:
Summary after selecting from large number of option to refine your database.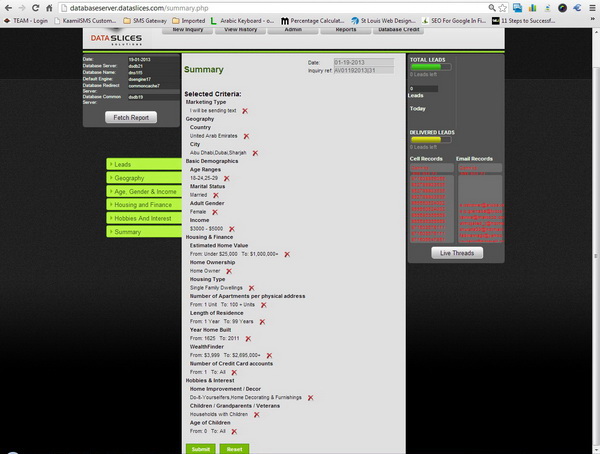 Tags
To know more about our SMS solutions & services, please contact contact our sales here.